[100% Safe] How to Hack Pokémon GO Without Being Soft Ban?
Category: Change Location
20 min read
How to hack Pokémon GO on iOS is a common question for players who love Pokémon GO but can't go out and catch Pokémon often. Moreover, sometimes you need the help of some hacking tools when completing tasks or trying to achieve high scores.
In this article, we will share the best tools for Pokémon Go hack and provide you with a detailed guide to easily unlock Pokémon GO on iPhone. Without further ado, let's continue exploring this magical world.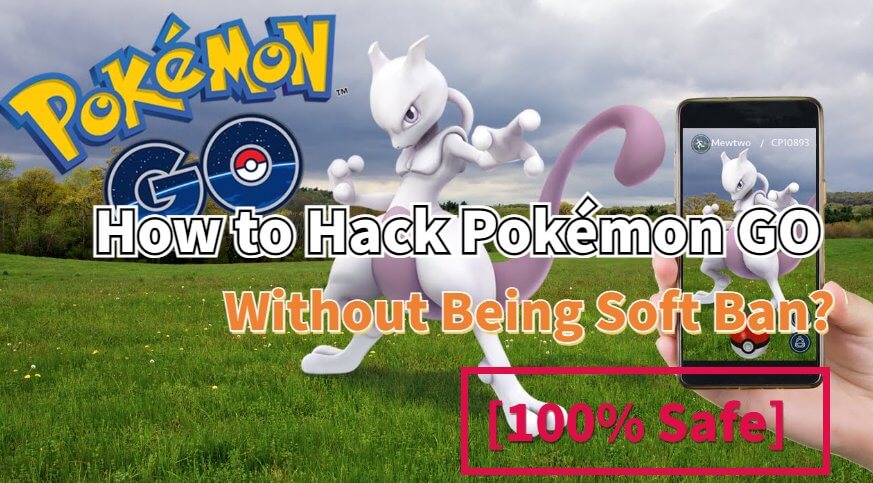 Part 1: How to Hack Pokemon GO iOS/iPhone?
Hi trainers! Despite Niantic's strict policies, 2023 brings us new opportunities to explore uncharted territories in Pokemon GO. Third-party hacking tools are now an effective way to travel around virtual worlds and collect valuable items without ever leaving your home. So, what are the most exciting Pokemon GO hacked apps for iPhone in 2023? Come explore with us!
1

Use Pokémon GO Spoofer - LocaChange [iOS & Android]

Are you wondering how to hack Pokémon GO on your iPhone or Android device? One of the best ways is to use a location spoofer. This is because the game relies entirely on your actual GPS location to obtain rewards and items.

However, with location spoofers, you can easily change your location without moving.

LocaChange is an amazing tool that allows you to change the GPS location of your device. Once you complete this step, you can fake your device to where you want it to be, making the gaming experience even easier. Now, let's take a look at the steps to hack Pokémon GO on your iPhone or Android device.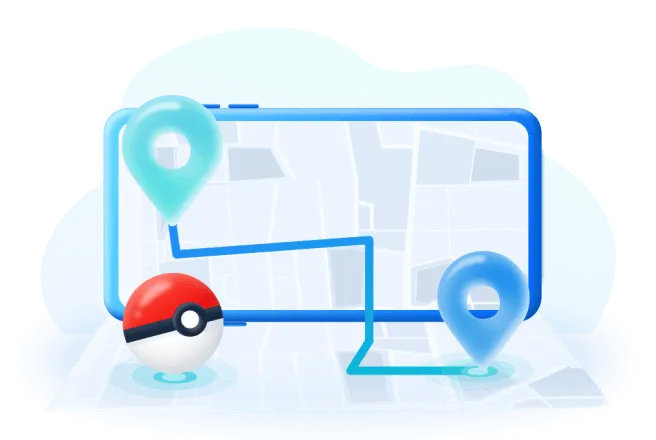 Cooldown Timer Control: Mock in-game travel times to ensure you don't move too quickly to avoid softban in Pokémon GO.
Customizable Movement Speed: Define your ideal Pokémon coordinates, draw a route or path, and easily catch more Pokémon without actually traveling.
Joystick Control: Manually control movement in the game by Pokemon Go joystick, allowing you to explore the Pokemon world more actively.
No Jailbreak Required: Use LocaChange Pokémon GO Spoofer spoofers without jailbreaking your device, keeping your device safe.
Experience a free trial for all users.
Here's how to use LocaChange specifically to easily change locations.
Step 1:Download and install LocaChange into your Computer.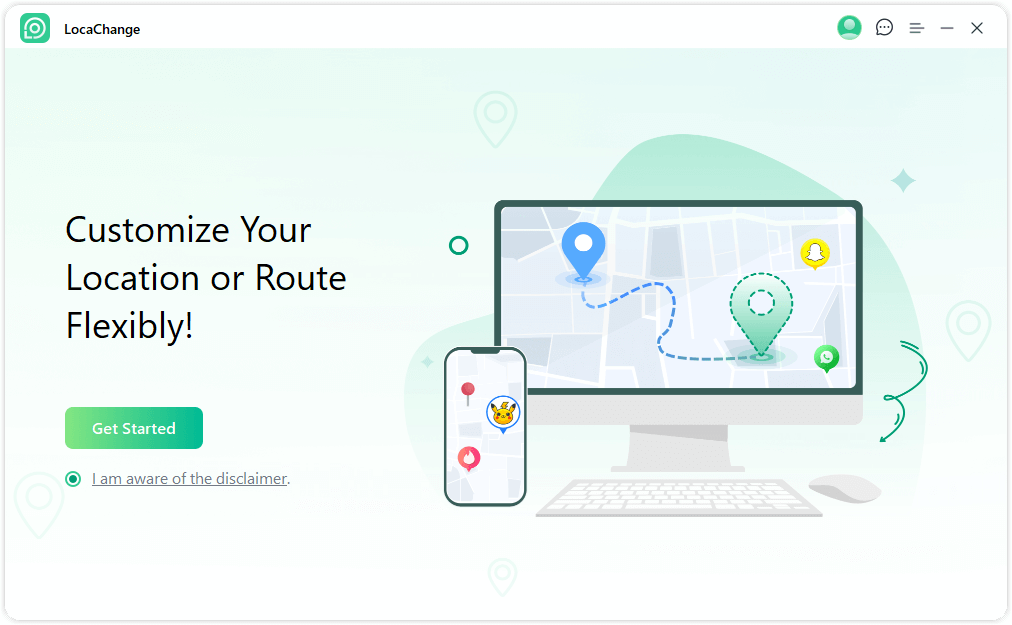 Step 2: After installing LocaChange, launch it. Then connect your phone to your computer with a USB cable or WIFI connection(we recommend USB cable beacuse It has a 100 percent success rate)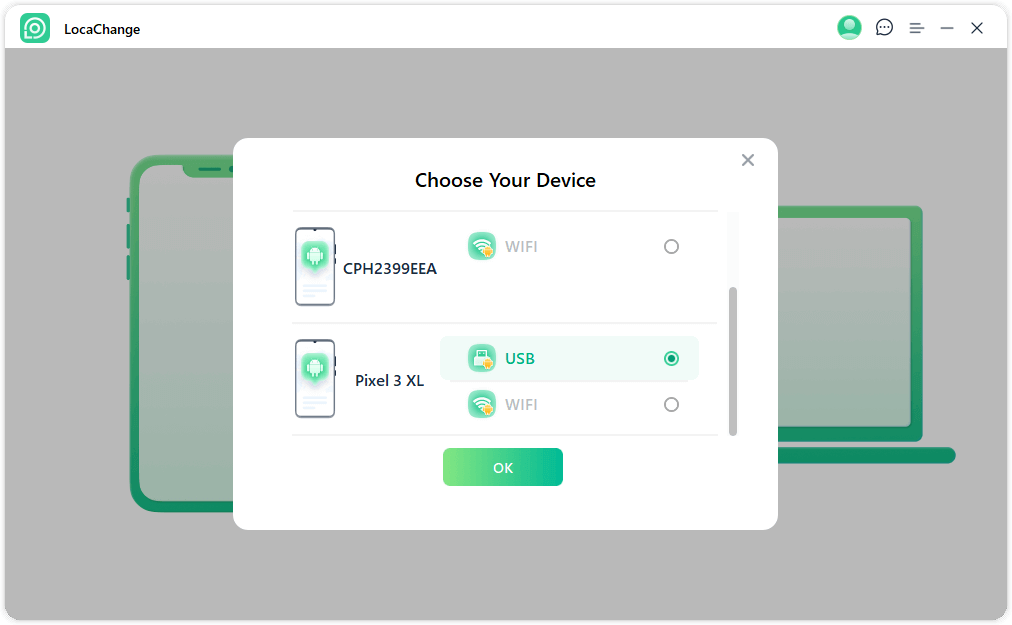 Step 3: Choose any of the teleport mode, two-spot mode, multi-spot mode, enter any location you want to jump or transfer, and click the Move button to change your GPS location.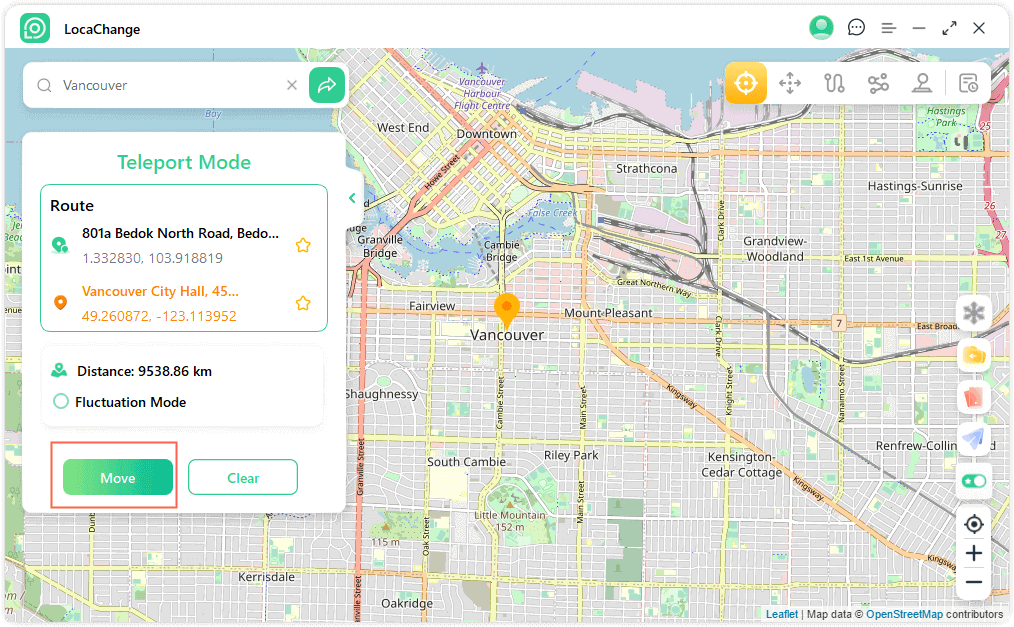 Through the above steps, you can easily change your location, and fake GPS location is no longer your worry.
2

Use VPN Service - NordVPN [iOS & Android]

Do you want to know how to hack Pokémon GO on iPhone/Android by using a VPN? Below are detailed instructions on how to use a VPN to change your location and create more possibilities for adventure.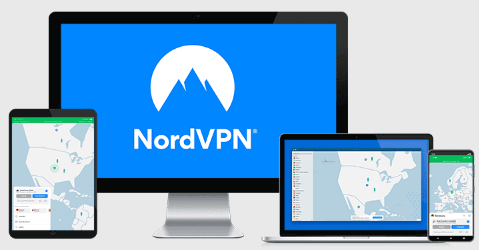 Step 1: Download and install the VPN app
Head to the App Store, search for and download your favorite VPN app, such as NordVPN Pokémon Go.
Step 2: Launch the VPN app
Open the VPN app you just downloaded and it will usually guide you through simple settings.
Step 3: Choose a virtual location
In the VPN app, you will see a list of various virtual location options. Choose a location and this will become your virtual location.
Step 4: Enable VPN connection
Typically, you just click a button to enable a VPN connection. At this point, your iPhone will appear as your device location, masquerading as a virtual location of your choice.
Now that you've successfully changed your location, you can enjoy a new adventure in Pokémon GO. Please remember that using a VPN may be against the rules of the game, so use it with caution and at your own risk. Start your Pokémon adventure!
3

Use Pokémon GO++ Without Jailbreak [Only Android]

Wondering how to install Pokémon GO++, the version that lets you make tweaks to the game that the original couldn't? You don't need to root your device, just follow these simple steps: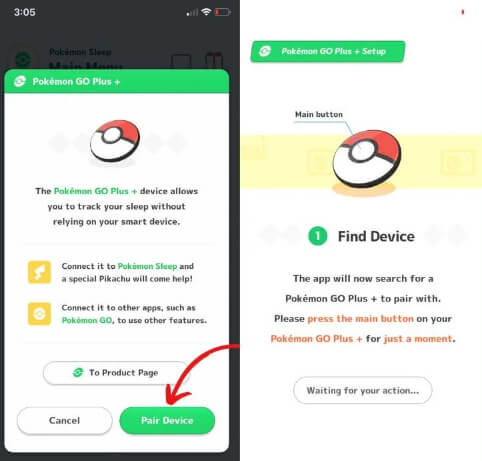 Step 1: Uninstall official Pokémon GO.
First, uninstall the official Pokémon GO version on your phone.
Step 2: Go to Pokemon GO++ AKA PGsharp Page.
Use your browser to go to the official page of Pokemon GO++ AKA PGsharp.
Step 3: Install Pokémon GO++.
On this page, you will find the download link for Pokémon GO++. Click to download and install it.
Step 4: Launch Pokémon GO++.
Once the installation is complete, launch the Pokémon GO++ app.
Now you can enjoy the Pokémon GO++ version, tweaking and adventuring to your heart's content, without rooting your device. Remember, using unofficial versions may violate the rules of the game, so use with caution. Start your Pokémon adventure!
4

Use iPoGo [Only iOS]

iPoGo is a hacking app that gives iOS users the option to play Pokémon GO without moving. It allows automatic snapping and rotation, but be aware that Niantic may detect and take action, potentially resulting in an account ban.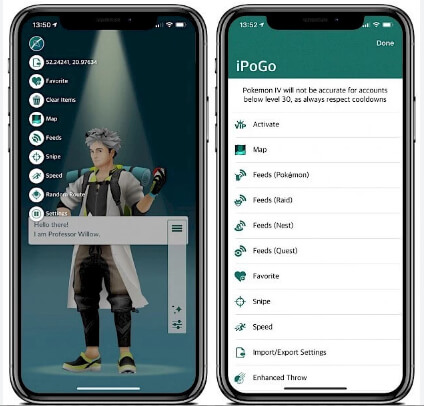 Additionally, installation may present some challenges and requires caution.
Step 1: Get iPoGo.
Search for iPoGo in your browser and find the official website. Download the iPoGo app from there.
Step 2: Install iPoGo.
Once the download is complete, go to Files on your iOS device, click on the iPoGo installation file, and follow the prompts to complete the installation.
Step 3: Launch iPoGo.
Open the iPoGo app and log into your Pokémon GO account.
Step 4: Auto-Capture and Rotate.
iPoGo provides auto-capture and rotation options to help you easily capture sprites and rotate PokéStops.
5

Use PGSharp [Only Android]

PGSharp is a Pokémon Go cheat tool that provides players with the ability to change locations in the game. This means that you can travel the world in search of new Pokémon even when you're at home.

PGSharp uses longitude, latitude, altitude, speed, and accuracy to make the game think you're on an immersive adventure. For Android users, PGSharp is an ideal tool for simulating walking or biking as you embark on exciting adventures in the virtual world of Pokémon Go.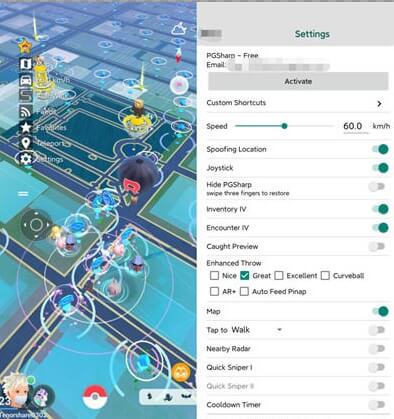 Step 1: Visit the PGSharp official website.
First, visit the PGSharp official website. Search the website for the PGSharp app and download it. Once the download is complete, install it on your Android device.
Step 2: Create an ID.
Find the shared beta key in your device folder and scroll to the "Register now" button. Create your ID by setting a login username and password.
Step 3: Add Credentials.
Copy and paste the credentials from your PTC Pokémon account, along with the Beta Key you received after signing up.
Step 4: Download Pokémon Go.
The new Pokémon Go app will now begin downloading. Once the installation is complete, the application is ready to go.
If you receive an out-of-stock message when trying to confirm payment, this may mean that the backend server is down or under heavy load. Please wait a few minutes and try again. You can then proceed to use the PGSharp Pokémon Go cheat feature.
Part 2: Other Useful Pokemon Go Hack Tips?
1

Pokemon Go Cheat Codes

Cheat codes are another easy way to hack Pokémon Go. These codes are occasionally provided by Pokémon, allowing players to enjoy the game at its peak. Unfortunately, however, these Pokémon Go cheat codes usually lose their effectiveness very quickly.
These promotional codes are only valid for a certain time, so you can only use them within the specified time. Otherwise, they will expire. Here are some cheat codes for Pokémon Go:
3ZQZD2H6BBVT4
UWJ4PFY623R5X
9FC4SN7K5DAJ6
UBCJL9X6RC47A
H7APT5ZTLM45GZV
DYEZ7HBXCRUZ6EP
K8G9DFV4X7L3W
TRFJVYZVVV8R4
2

Locate Pokemon With Traker

If you're eager to catch new Pokémon for free, trackers are your friend. They help you locate Pokémon around you and simulate locations, powering Pokémon Go cheats. Of these, PokeHunter is a beloved top tracker in the Pokémon Go community because it finds the best catching locations for almost every player.

This tool displays potential Pokémon locations, including nearby gyms and Raid boss information, making it easily accessible to all Pokémon Go players.
3

Auto-IV Checking

There is also a way through a third-party application IV checker. Auto-IV Checker is a Pokémon Go hacking app that tells you your Pokémon's individual value to help you make more informed choices about which ones are worth evolving.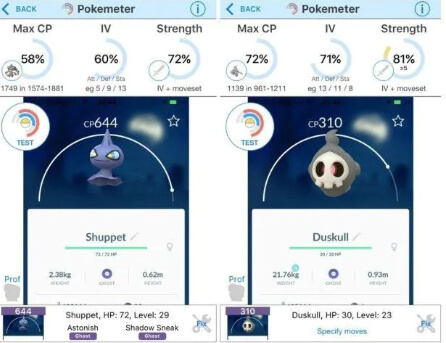 Normally, players only see a Pokémon's CP or combat power, but the Auto-IV Checker app evaluates your Pokémon and assists you in deciding whether it's worth investing the rare candies into evolving them.
Step 1: Download the emulator.
Download and install Android emulator on your PC.
Step 2: Search for Auto-IV Checke.
Open the emulator, use your browser to search for "Auto-IV Checker" and install it.
Step 3: IV Check.
Once installed, use the Auto-IV Checker to check the IV value of each Pokémon.
4

Catch Pokemon Without Carrying a Mobile Phone via Pokemon Go Plus

PokéGo Plus is a portable device for interacting with the Pokémon Go game without having to constantly check your smartphone.

It supports iOS and Android and connects via Bluetooth. The device sends notifications of nearby Pokémon and PokéStops, and the phone vibrates and the LED flashes when a Pokémon is nearby.

Press the button to throw a Poké Ball, and the device vibrates and the LED flashes on success. The device vibrates and the LED flashes green when a Pokémon begins to move, and the LED flashes yellow when a Pokémon is not captured. PokéGo Plus makes Pokémon Go even more convenient and fun.
Part 3: How to Avoid Pokemon GO Soft Ban?
In Pokemon Go, be sure to follow the cooldown rules when using the GPS joystick or teleporting. The table below lists the time to wait before performing in-game actions, based on the distance traveled.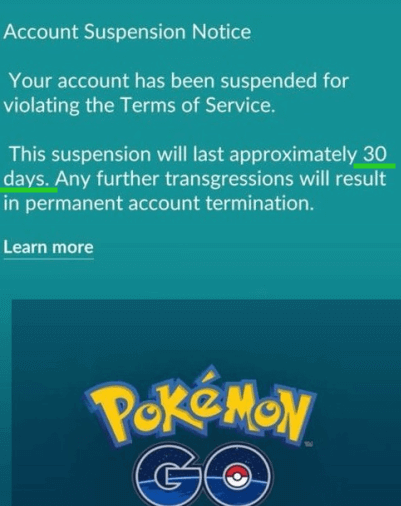 If you use LocaChange to hack Pokemon Go, you can disable its cooldown timer and it will remind you when to pause and restart, ensuring compliant operation.
| Total Distance | Waiting Period | Total Distance | Waiting Period |
| --- | --- | --- | --- |
| 1 KM | 30 s | 250 KM | 45 Minutes |
| 5 KM | 2.5 Minutes | 375 KM | 54 Minutes |
| 10 KM | 7 Minutes | 460 KM | 62 Minutes |
| 12 KM | 8 Minutes | 565 KM | 69 Minutes |
| 18 KM | 10 Minutes | 700 KM | 78 Minutes |
| 26 KM | 15 Minutes | 800 KM | 84 Minutes |
| 42 KM | 19 Minutes | 900 KM | 92 Minutes |
| 65 KM | 22 Minutes | 1000 KM | 99 Minutes |
| 81 KM | 25 Minutes | 1300 KM | 117 Minutes |
| 100 KM | 35 Minutes | >1500 KM | 2 H |
Conclusion
Pokémon GO offers an immersive experience that is both visually and socially interactive. It brings players together in different areas to complete quests and adventures together.
This article explains various Pokémon Go hacks and detailed steps. But if you're looking for the best location spoofing solution on iOS or Android, we highly recommend LocaChange. It provides you with multiple features to safely change the location of Pokémon Go, allowing you to play endlessly.
Change GPS Location on iOS/Android
168,282 people have downloaded it.
Fake iOS/Android GPS location to anywhere in the world instantly.
100% Work with location-based apps such as AR games, social platforms, etc.
Joystick to simulate GPS movement freely when playing games.