Troubleshooting Guide: Why Is Life360 Not Updating Location?
Category: Change Location
11001 views , 14 min read
In today's fast-paced world, location-tracking apps like Life360 have become an essential tool for staying connected with our loved ones and ensuring their safety.
However, what happens when these apps don't work as expected? If you've found yourself asking, "Why is Life360 not updating location?" you're not alone.
In this article, we'll delve into the common reasons behind this issue and provide you with practical solutions to ensure that your location-tracking experience remains seamless and reliable.
Whether you're a concerned parent or a user relying on such apps for safety, understanding and resolving this problem is crucial. Let's explore the potential causes and remedies for Life360's location update challenges.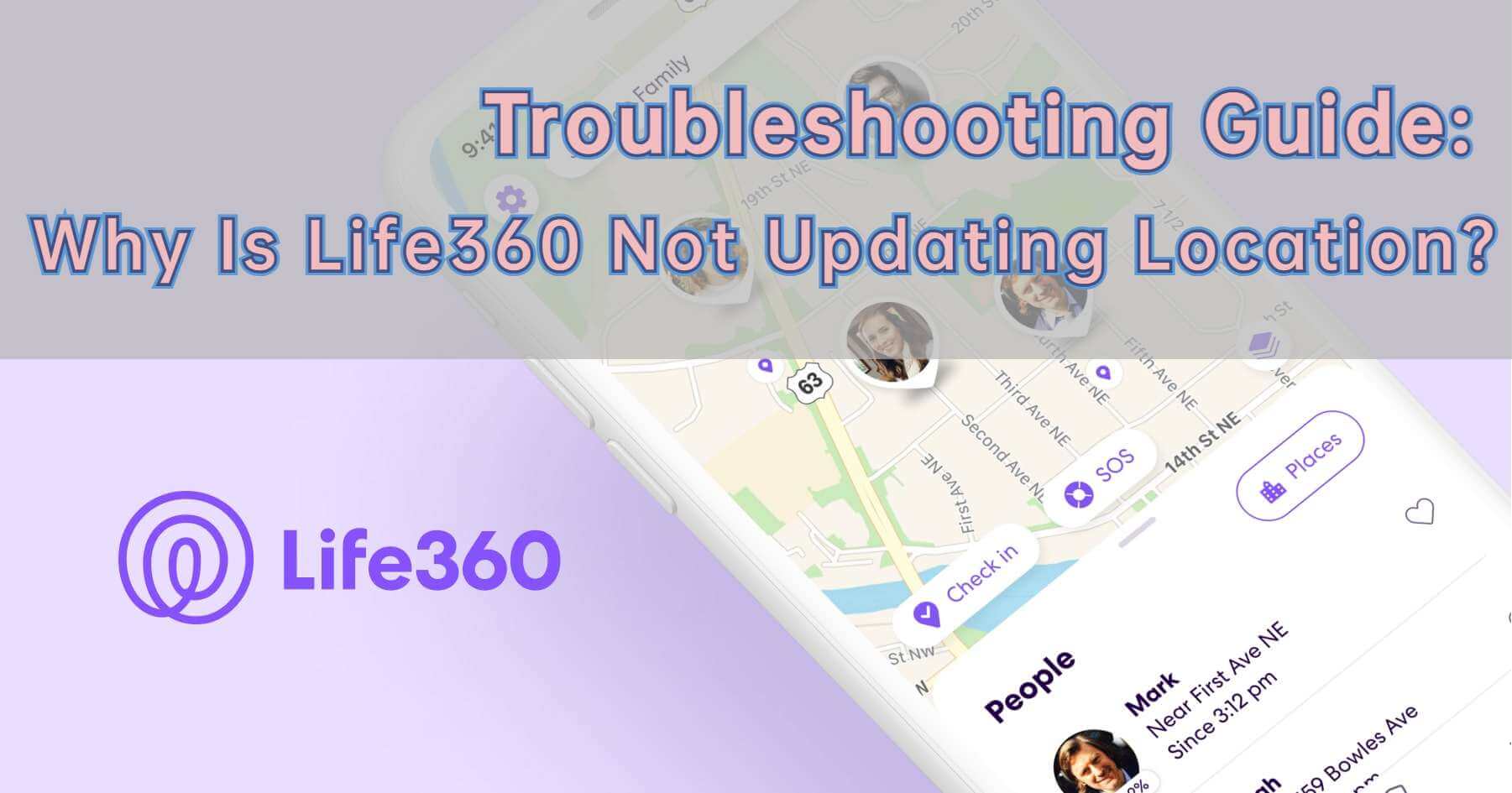 Part 1: Understanding the Issue Which Life 360 Not Updating Location
Discover the root causes behind the Life360 app's failure to function optimally or update locations. Understanding these triggers is pivotal in addressing the situation. Delve into the common culprits responsible for Life360's location update challenges: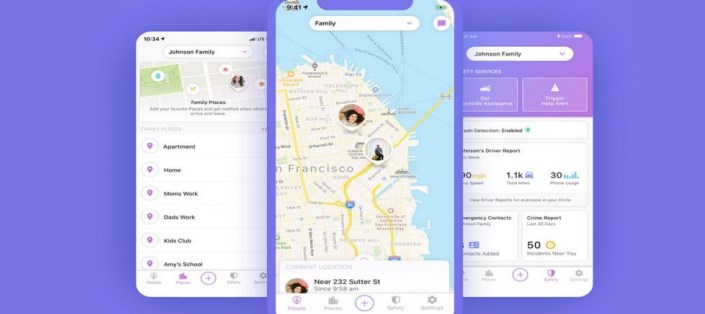 Location Sharing Disabled: The individual you're trying to locate may have deactivated location sharing.
Network Hiccups: Connectivity glitches, such as Wi-Fi or cellular data issues, can hinder updates.
Battery Drain: A low battery might lead to device shutdown, impacting location updates.
Permission Lapses: Failure to grant app permissions can stall location updates.
Time Lapse: Over three days of inactivity on the app can affect updates.
Multi-Device Logins: Concurrent sessions with the same account across devices can cause discrepancies.
VPN Conflicts: A VPN connection might obscure the Life360 app's location detection.
App Outdated: Using an obsolete app version can impede location updates on Life360.
Part 2: 5 Effective Solutions for Resolving Life 360's Location Update Problem
1

Optimize Network Connectivity

Ensure seamless app performance by addressing potential connectivity issues:
Internet Check: Verify your internet connection; switch to a robust and stable Wi-Fi.
Data Transition: If Wi-Fi falters, transition to Mobile or Cellular Data.
Power Saving Mode: Disable power-saving mode on Android (similar process on iOS).
By tackling network concerns, you pave the way for smoother app operation.
2

Enhance Location Access

For seamless Life360 performance, optimize location permissions: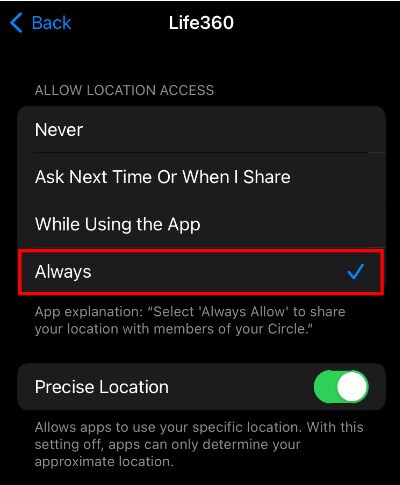 iOS
Navigate to Settings and locate the Life360 app. Tap to open it.
Access Location and select Always for location access.
Ensure Precise Location is activated. Return and enable Fitness Tracking under Motion & Fitness.
Android
Open Settings on your Android device, then head to Apps. Locate and select the Life360 app.
Opt for Allow all the time for location access for the app.
3

Enable Background Activity for Life360

Ensure accurate location updates by enabling background app refresh for Life360:
Step 1: Access Settings and find Life360.
Step 2: Within Life360 settings, enable Background App Refresh. This ensures timely location updates.
4

Update Life360 and Restart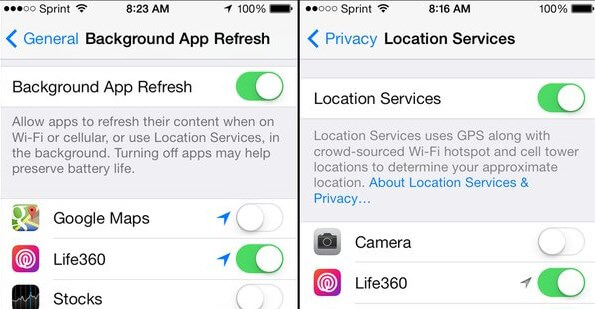 If the above solutions don't work, try updating the app and restarting your device:
Step 1: Open Play Store (Android) or App Store (iOS).
Step 2: Search for "Life360" and check for updates.
Step 3: If an update is available, download and install it.
Step 4: Restart your device.
Step 5: Launch the app and check if location updates are working correctly.
5

Log out Account from Other Devices

To ensure accurate location updates, use your Life360 account on only one device:
Step 1: Log out from all other devices using the same Life360 account.
Step 2: Use the app exclusively on your chosen device to avoid location conflicts.
Step 3: This helps prevent location inaccuracies and provides precise information.
Part 3: Useful Tips for Location Changing on Life 360
Let's proceed to the solution. If you're facing issues with Life 360 not updating your location, consider utilizing LocaChange. This versatile location solution enables seamless alteration or simulation of your phone's location on both Android and iOS platforms.
With its intuitive instructions, users can effortlessly navigate through the process. By leveraging LocaChange, you can surpass the limitations of Life 360 and ensure precise location updates.
Now, allow me to showcase some key features that establish LocaChange as an exceptional choice for addressing your location update concerns: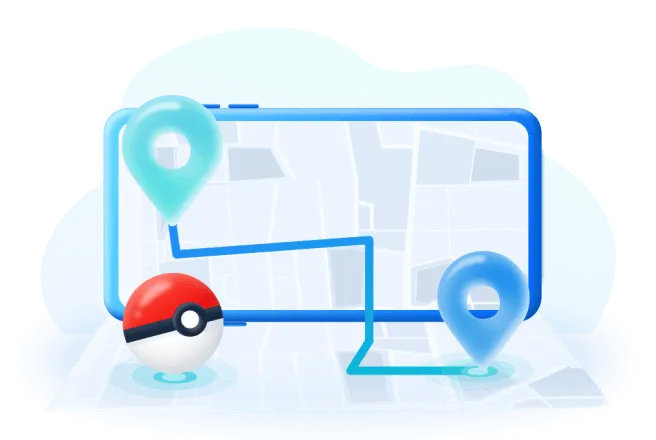 Allow you to instantly journey to any destination worldwide.
Enhance your gameplay in location-based games like Pokémon Go by utilizing the joystick for movement.
Ensure seamless functionality without the necessity of jailbreaking your device.
Additionally, tailor your GPS movement by adjusting both speed and route according to your preferences.
Here's how to use LocaChange specifically to easily spoof locations in Pokemon GO.
Step 1:Download and install LocaChange into your Computer.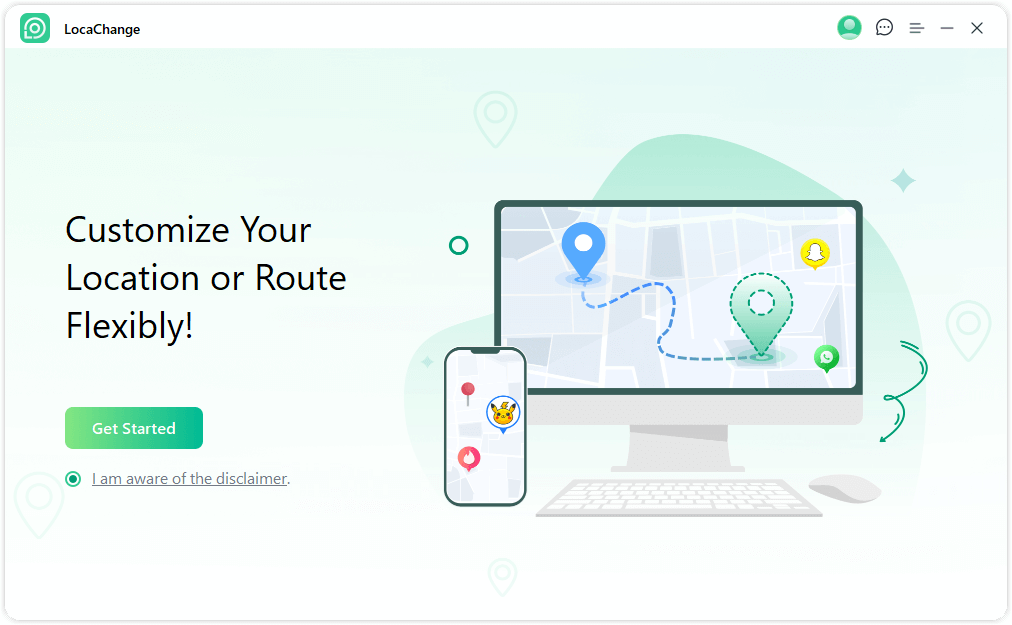 Step 2: After installing LocaChange, launch it. Then connect your phone to your computer with a USB cable or WIFI connection(we recommend USB cable beacuse It has a 100 percent success rate)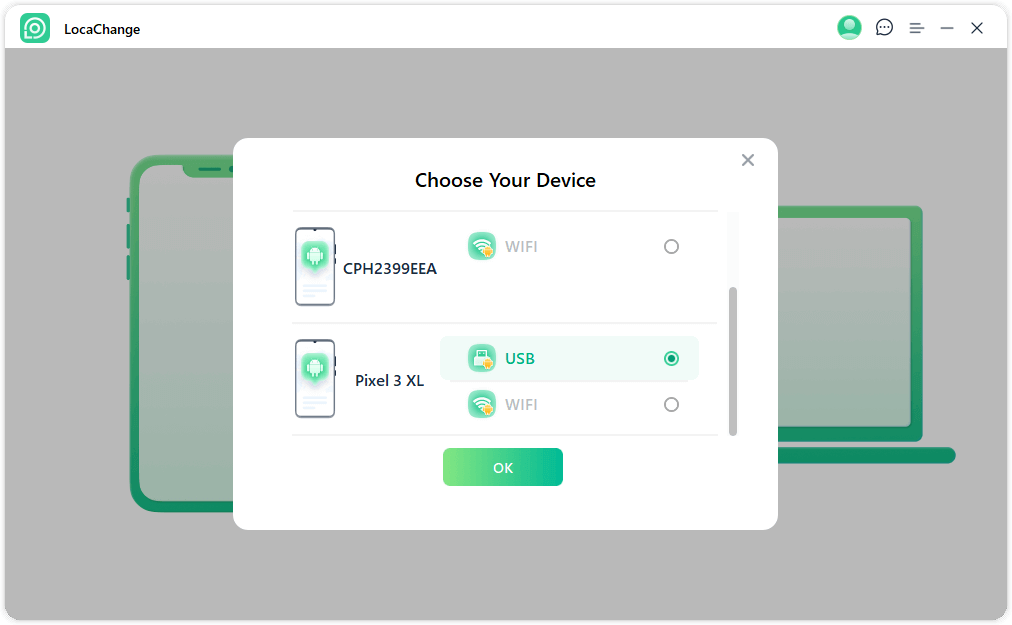 Step 3: Choose any of the teleport mode, two-spot mode, multi-spot mode, enter any location you want to jump or transfer, and click the Move button to change your GPS location.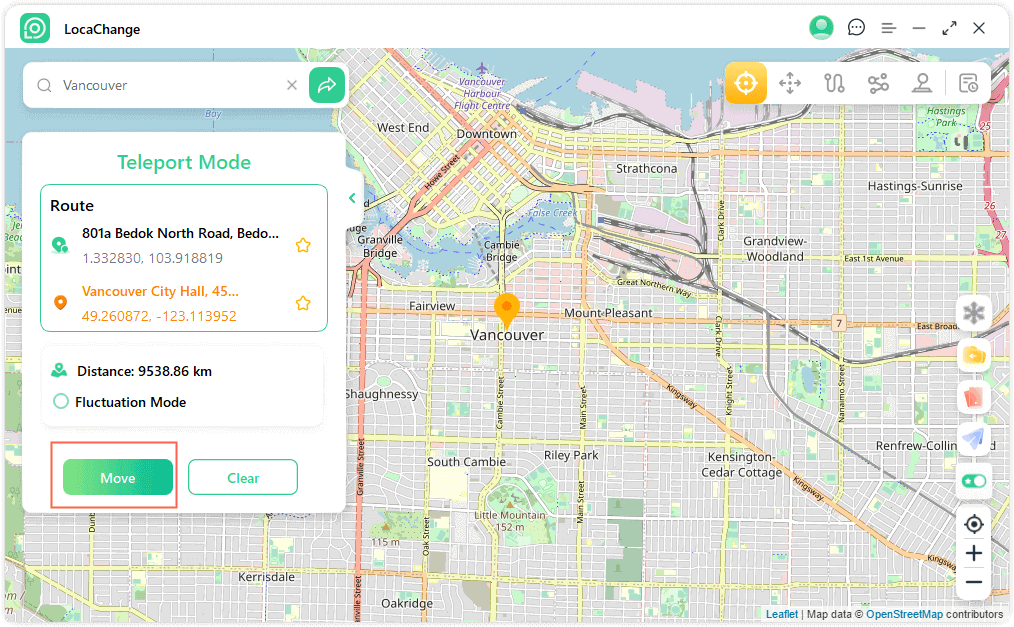 With the above steps, you can fake GPS location simply.
Part 4: Top FAQs about Life360's Location Not Updating
1

How do you get Life360 to not update location?
1. Disable Life360 by Turning Off Location Sharing.
2. Stop Life360 by Activating Airplane Mode.
3. Disable Life360 by Deleting Your Account.
4. Prevent Life360 Tracking with a Burner Phone.
2

How do you know if someone paused their location on Life360?

If a Circle Member logs out of the Life360 app or deactivates location services in their phone settings, an alert message reading 'Location/GPS turned off' or 'No network' will be displayed.

To view their location once more, they must re-login to their Life360 app and activate location sharing with your Circle.
3

Does Life360 update when your phone is off?

As an app, Life360's location-sharing service is interrupted when a phone is powered off. Nonetheless, Life360 retains the capacity to furnish the device's location history for up to 30 days.

The inability to track a phone's location primarily stems from the cessation of its GPS functionality upon shutdown.
Conclusion
We've explained Life360's core function of tracking family and friends, addressed typical location update obstacles, and offered practical fixes like network checks, app updates, device restarts, and connection optimization.
Following these steps guarantees accurate location updates, providing peace of mind for you and your loved ones.
Pairing this with location spoofer LocaChange enables solve why is Life360 not updating location. Embrace LocaChange for elevated location precision.
Change GPS Location on iOS/Android
168,282 people have downloaded it.
Fake iOS/Android GPS location to anywhere in the world instantly.
100% Work with location-based apps such as AR games, social platforms, etc.
Joystick to simulate GPS movement freely when playing games.