Unlocking Tricks: How to Fake Your Location on Snapchat
Category: Change Location
4471 views , 15 min read
In the dynamic realm of social media, Snapchat stands out as a platform for spontaneous moments and creative interactions.
While Snapchat's location-based features enhance connections, there may arise situations where altering your location becomes appealing. Whether for fun or privacy, learning how to fake your location on Snapchat can provide a unique perspective and open doors to exciting experiences.
In this article, we delve into the intricacies of manipulating your location on Snapchat, providing you with step-by-step insights and techniques to navigate this virtual landscape. Get ready to uncover a world of possibilities as we guide you through the process of faking your location on Snapchat.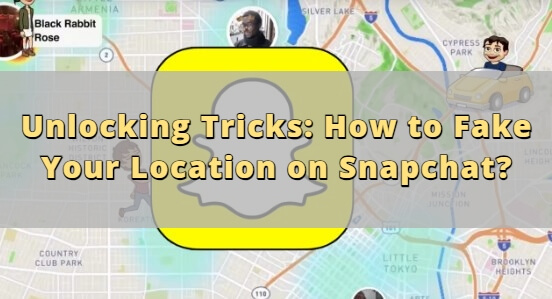 Part 1: How Does Snapmaps Work?
Snap Map functions similarly to popular mapping apps like Google Maps or Apple Maps. It utilizes your phone's GPS sensor to reveal your location to friends on Snapchat. You maintain control over who sees your location and can select specific friends to share it with on the map.
Snap Map doesn't provide real-time tracking; it updates when you open Snapchat, though extended periods of inactivity may lead to your disappearance from the map.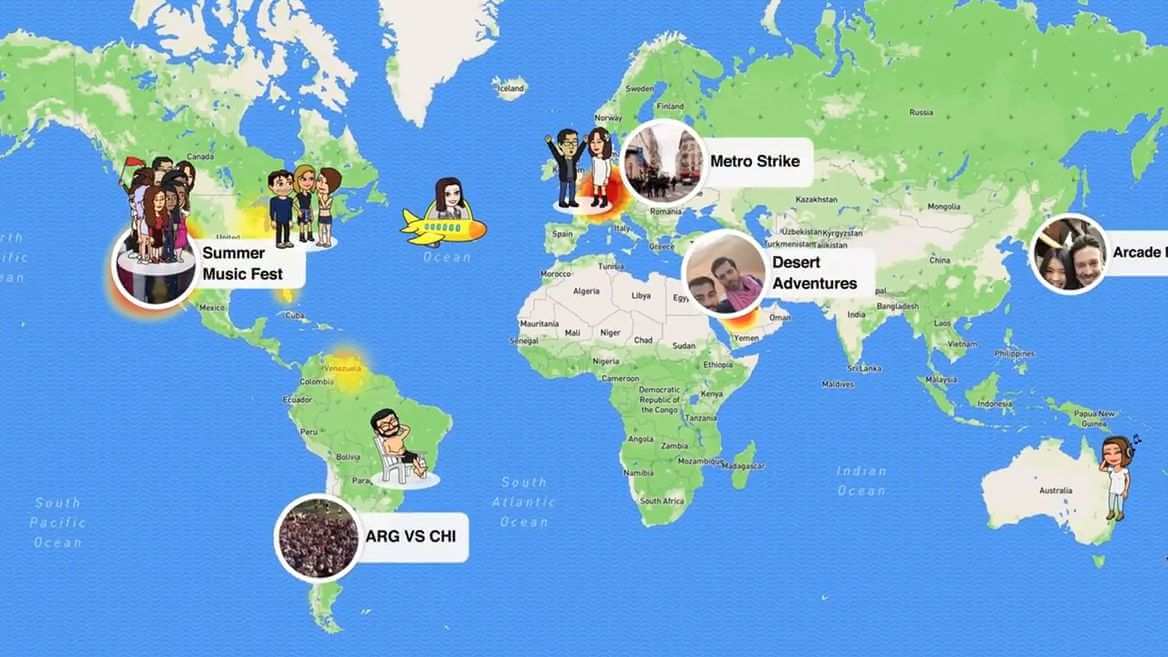 You and your friends are represented as 'Actionmojis,' personalized avatars crafted through Snapchat's Bitmoji app. These avatars reflect your current activities.
Through Snap Map, you can contribute to 'Our Story' by sharing your own stories, viewable by others on the map. Exploring the illuminated areas on the map lets you discover your friends' stories too.
Part 2: Can I Turn off Location Sharing on Snapchat?
For Snapchat's location tracking, activate "Ghost Mode" to conceal your whereabouts on the map, ensuring contacts can't view your location.
Alternatively, access your iPhone or Android device settings to disable location tracking by revoking location permissions.
How to Turn off Location Sharing on Snapchat?
Snapchat employs GPS to showcase your whereabouts, yet you can customize settings to curtail location sharing. Options include visibility to all, excluding specific friends, or keeping it wholly hidden.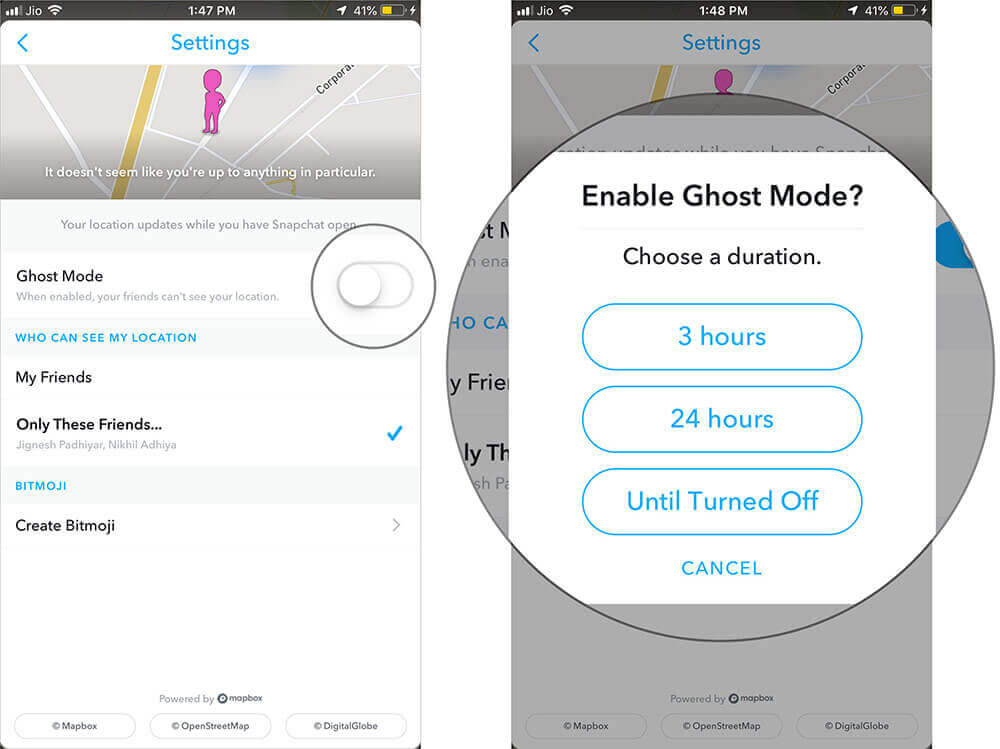 Learn how to implement these privacy measures with the outlined steps:
Step 1: Open the Snapchat settings.
Step 2: In the "WHO CAN..." section, tap "See My Location".
Step 3: Opt for "Ghost Mode" from the menu to fully conceal your location. Decide the duration of your hidden status. Alternatively, you can share your location with all, except a few friends, or solely selected ones.
Part 3: How to Fake Location on Snapchat Map?
While adjusting Snapchat settings to disable location sharing is useful, it may raise suspicions if your location suddenly vanishes. The optimal approach to concealing your Snapchat location is to simulate a different location on the Snapchat map.
1

LocaChange (Support iOS & Android)

To achieve this, a specialized Snapchat location spoofer is crucial. Look no further – LocaChange location changer, the premier location spoofer, is your solution.

LocaChange, an exceptional Snapchat location tool, adeptly alters your GPS coordinates to outsmart apps relying on GPS data. With remarkable compatibility, speed, user-friendliness, and an impressive feature set, LocaChange simplifies GPS spoofing like never before.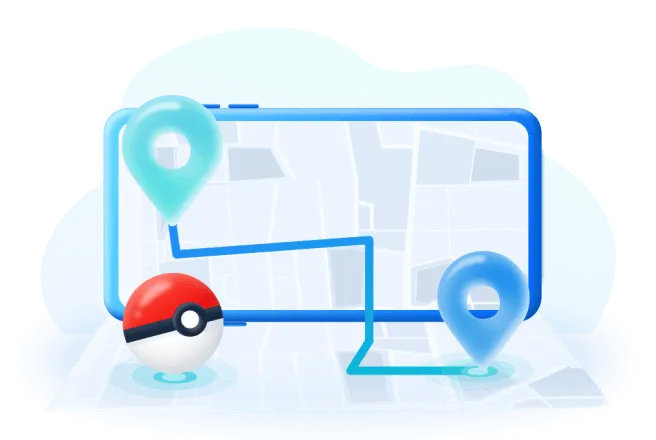 Instantly alter GPS location with a few clicks.
Compatible with various location-based apps like Find My, Life360, WhatsApp, and Tinder.
User-friendly interface and straightforward steps.
Supports both Android and iOS devices.
Experience a free trial for all users.
Pros
Automatic marching.
360-degree directions.
Keyboard control.
Cons
2

Fake GPS Location Spoofer (Android Only)

Discover the incredible Fake GPS Go Location Spoofer App for Android. Easily spoof locations via place names or GPS coordinates.

The free version provides basic features, while the premium version unlocks advanced capabilities for precise GPS deception. Compatible with Android 6.0 and above.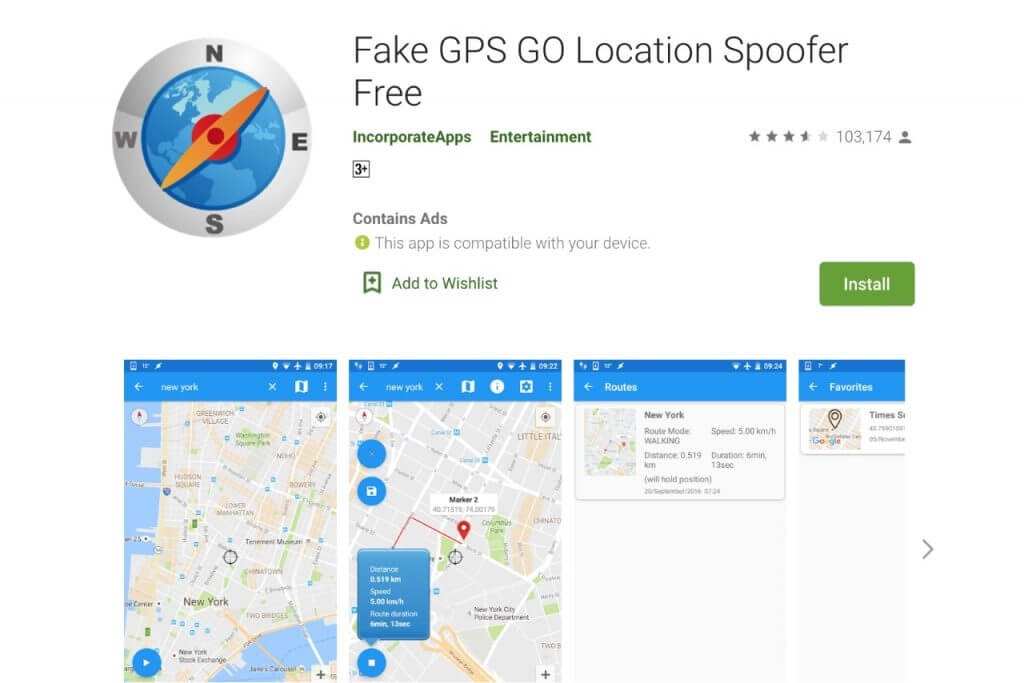 Root Mode Not Required: Compatible with Android 6.0 and above, enjoy location spoofing without rooting.
Favorite Locations: Save and access frequently used locations effortlessly.
Versatile Compatibility: Works seamlessly on both rooted and non-rooted smartphones.
Instant Route Creation: Easily generate routes on the go.
App Integration: Effortlessly integrates with other applications for a seamless experience.
Pros
Easy-to-use user interface.
It comes with a GPS Joystick.
Save preferred location for future use.
Cons
It may get you banned in some apps.
Ads in free version.
3

VPNa Fake GPS Location

Elevate your Android experience with VPNa, a top-tier spoofing app designed to effortlessly share fake locations across various applications.

Whether your device is rooted or non-rooted, VPNa delivers exceptional performance, granting you the freedom to manipulate your location with ease. Unleash the power of VPNa and explore a world of limitless possibilities.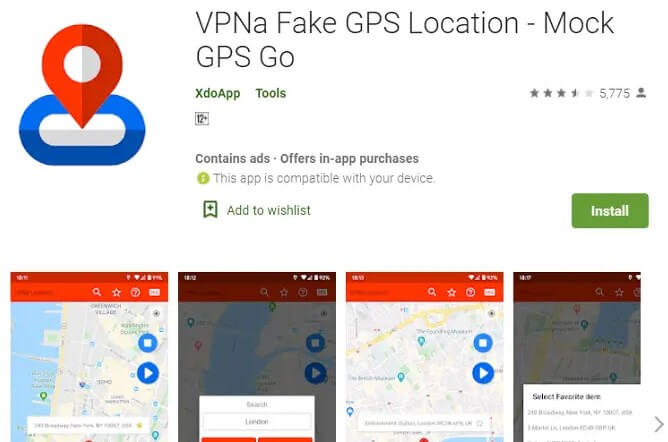 Effortlessly Alter Your Location: Achieve location transformation in just two simple steps.
Battery-Friendly Functionality: VPNa offers a comprehensive range of features without compromising your device's battery life.
Convenient Site Preservation: Seamlessly store your preferred locations for future accessibility.
Pros
No root required.
Easy to use.
Cons
May not work with online games.
Conclusion
This article has undoubtedly explored effective methods to change your location on Snapchat. Among them, the most efficient and user-friendly solution is LocaChange location spoofer, allowing you to modify your GPS location seamlessly, keeping your actions discreet.
Experience the transformative power of LocaChange in altering your Snapchat map location with ease. Download and give this tool a try today to enhance your location privacy. Best of luck!
Change GPS Location on iOS/Android
168,282 people have downloaded it.
Fake iOS/Android GPS location to anywhere in the world instantly.
100% Work with location-based apps such as AR games, social platforms, etc.
Joystick to simulate GPS movement freely when playing games.