[2023] Master the Game: Defeat the Soft Ban Pokemon Go Curse!
Category: Change Location
13 min read
If you find yourself grappling with a soft ban in Pokemon Go, you've landed on the perfect resource. This article aims to explore the realm of the soft ban on Pokemon GO and equip players with effective strategies to steer clear of them, enabling them to embark on an uninterrupted journey of collecting Pokemon.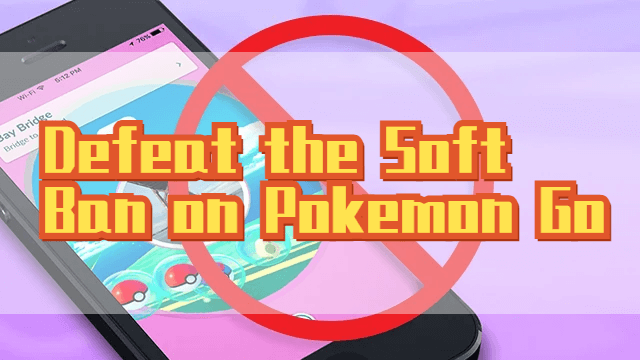 Part 1. Which Actions Lead to Pokemon Go Soft Ban Time?
Niantic implemented the soft ban to discourage playing Pokémon Go while driving. It's not a strike on your account, and multiple soft bans won't result in a 1st strike. The main causes of soft bans are GPS spoofing, excessive speed, and account sharing. During a soft ban, any Pokémon you catch will flee regardless of the ball or berries used. It also restricts winning gym battles and collecting items from Pokéstops.
Here are the actions to avoid when teleporting to a new location:
Capturing a wild Pokémon
Accidentally dropping a ball on the encounter screen (applies to raids too)
Feeding a wild Pokémon with a berry (applies to raids too)
Spinning a Pokéstop with the "Try Again" message due to the spin limit
Placing a Pokémon in a gym
Feeding a gym defender within the screen radar
Encountering a fleeing Pokémon (due to catching limit)
Using a Gotcha device to spin and catch
Spinning a Team Rocket Pokéstop
Part 2. Exploring the Duration of Pokemon Go Soft Bans
The duration of a soft ban in Pokémon Go depends on the severity of the offense committed by the player. For instance, playing as a passenger in a vehicle can result in a temporary soft ban, similar to the actual effects. However, in the case of GPS spoofing or account sharing, the ban duration can extend up to 120 minutes.
| Total Distance | Waiting Period | Total Distance | Waiting Period |
| --- | --- | --- | --- |
| 1 Km | 1 Minute | 125 Km | 33 Minute |
| 2 Km | 1 Minute | 150 Km | 36 Minute |
| 4 Km | 2 Minute | 180 Km | 39 Minute |
| 10 Km | 8 Minute | 200 Km | 42 Minute |
| 15 Km | 11 Minute | 300 Km | 50 Minute |
| 25 Km | 15 Minute | 500 Km | 64 Minute |
| 30 Km | 18 Minute | 600 Km | 72 Minute |
| 40 Km | 22 Minute | 700 Km | 80 Minute |
| 45 Km | 23 Minute | 800 Km | 86 Minute |
| 60 Km | 25 Minute | 1000 Km | 100 Minute |
| 80 Km | 27 Minute | 1250 Km | 118 Minute |
| 100 Km | 30 Minute | 1266+ Km | 120+ Minute |
Part 3. Detecting When the Pokemon Go Soft Ban Is Lifted
There are multiple ways to determine if a soft ban in Pokémon Go has ended or not, and the simplest approach is to spin Pokéstops and see if you receive rewards. If you're able to obtain rewards from Pokéstops, it indicates that you can resume playing the game normally.
Part 4. How to Get Rid of Soft Ban Pokemon GO in 2023?
If you suspect that you have been soft-banned, there are a few steps you can take to resolve it:
Step 1. Wait It Out: Soft bans typically have a duration of just a few minutes or hours, with a maximum time limit of 2 hours. In such cases, the best course of action is to simply wait for the ban to be lifted.
Step 2. Seek Assistance from Niantic Help Center: If you believe that you were mistakenly banned by the game, you can consider reaching out to Niantic for support. However, it's worth noting that most spoofers are unlikely to pursue this option.
Part 5. How to Spoof Pokémon Go without Getting Pokémon Soft Ban
LocaChange is exceptional software that comes with built-in security features, allowing you to safely spoof your location without the risk of encountering a soft ban. One of its notable features is the 'Cooldown Period,' which displays a countdown timer whenever you rapidly change locations.
The duration of the cooldown period varies from 1 minute to 120 minutes, depending on the distance between your current position and the modified location. To avoid a Pokemon Go soft ban, it is recommended to refrain from engaging in any significant activities until the cooldown timer expires.
Furthermore, LocaChange offers multiple spoofing capabilities that Pokemon Go players can leverage to access any location worldwide from the convenience of their homes.
Only one simple tap, teleport your GPS location to anywhere.
1-Click change GPS location on Pokemon GO without jailbreak for iOS and Android devices
It works well with all location-based apps like Tinder, Snapchat, Find My Friends, AR games, popular social media platforms, etc.
The joystick allows you to control your movement path, speed, and location just like playing the Switch.
Spoof locations on up to 10 devices at a time
Fully compatible with Android (including Android 14) and iOS (including the latest iOS 16)
Here's how to use LocaChange specifically to easily spoof locations in Pokemon GO.
Step 1:Download and install LocaChange into your Computer.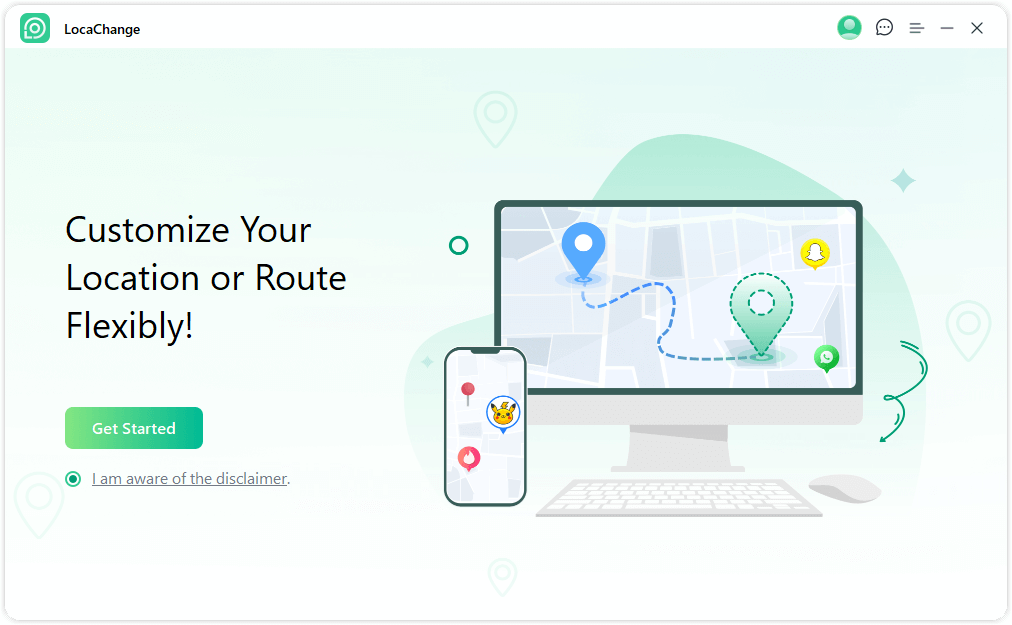 Step 2:  After installing LocaChange, launch it. Then connect your phone to your computer with a USB cable or WIFI connection(we recommend USB cable beacuse It has a 100 percent success rate)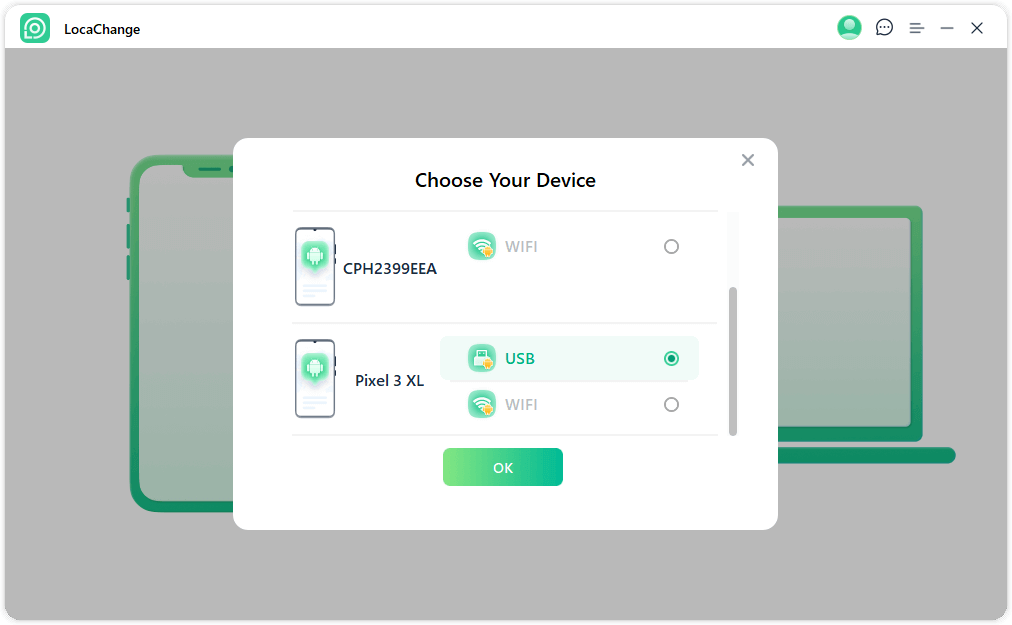 Step 3: Choose any of the teleport mode, two-spot mode, multi-spot mode, enter any location you want to jump or transfer, and click the Move button to change your GPS location.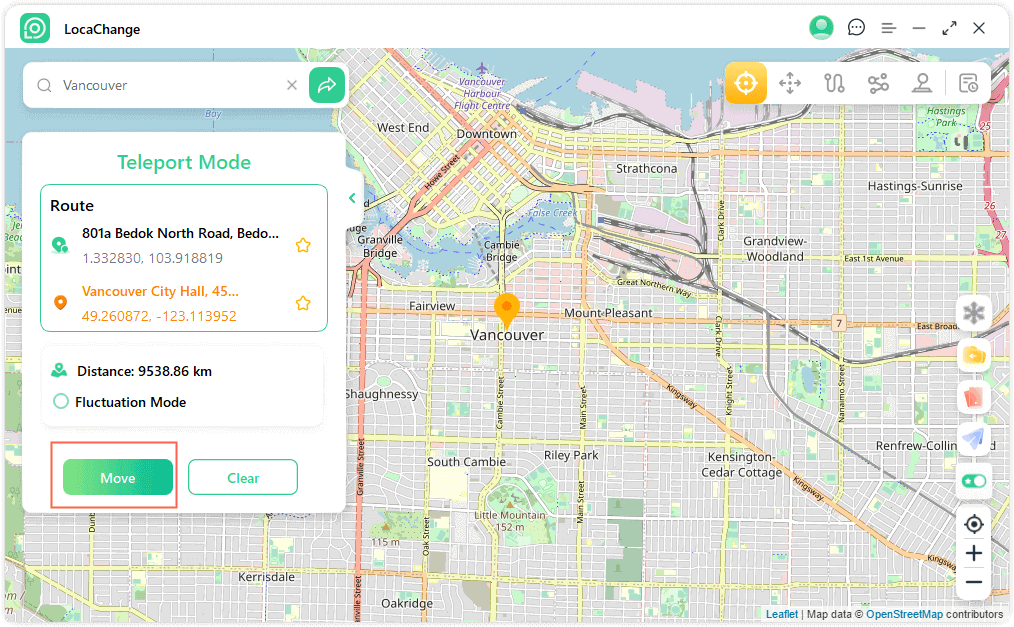 With the above steps, you can simply capture Pokemon from very far away at home, and faking GPS location is no longer a cause for concern for you. In addition to the function of Pokemon GO spoofing, LocaChange also supports the following functions: provide popular Pokemon routes、support planning routes、collection information is saved in the cloud、add a variety of map skins.
Conclusion
Engaging in games like Pokemon Go is primarily about enjoying yourself. However, encountering a soft ban can swiftly dampen the mood. Fortunately, this article provides solutions to help you overcome the issue of the soft ban on Pokemon GO. By utilizing LocaChange, you can effectively prevent bans and unlock a greater level of enjoyment within the realm of Pokemon Go.
Change GPS Location on iOS/Android
168,282 people have downloaded it.
Fake iOS/Android GPS location to anywhere in the world instantly.
100% Work with location-based apps such as AR games, social platforms, etc.
Joystick to simulate GPS movement freely when playing games.