Grindr Not Working? Tips to Resolve the Issue
Category: Change Location
5613 views , 20 min read
In today's interconnected world, dating and socializing have taken a digital turn, with apps like Grindr revolutionizing how people connect. However, what happens when technology throws a curveball, and you find yourself facing the frustrating message: 'Grindr not working'?
In this article, we delve into the common challenges users might encounter with the popular dating app, explore potential causes behind the 'Grindr not working' issue, and provide actionable insights to help you troubleshoot and get back to swiping, chatting, and connecting seamlessly.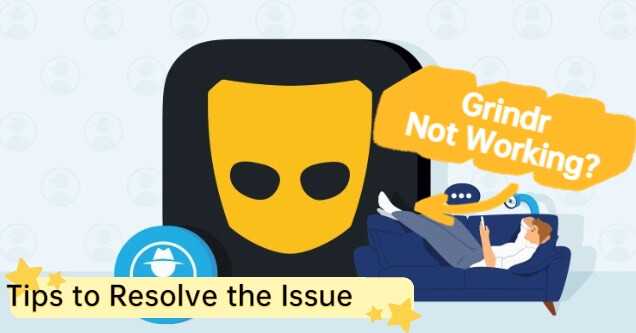 Let's uncover the solutions to ensure that your online dating experience remains uninterrupted, even in the face of technical glitches.
Part 1: Why My Grindr Not Working? How to Fix It?
Grindr's occasional non-functionality can stem from various factors, including:
Connectivity Problems: Internet issues impede Grindr's operation.
Outdated App: An obsolete version may hinder performance.
Device Limitations: Older cell phones may struggle with compatibility.
Server Interactions: The app malfunctioned due to Grindr server problems.
VPN Impediments: Grindr or fake GPS not working due to VPN restrictions.
1

Grindr Unable to Refresh

An app refresh enables seamless background updates and content retrieval while you're actively engaged. This ensures that whenever you access the app, you're guaranteed the most current information.

However, when Grindr fails to refresh, it proves especially inconvenient for activities like profile browsing, message exchanges, and staying updated with notifications. This article dives into effective solutions to resolve this issue and restore the app's fluid functionality.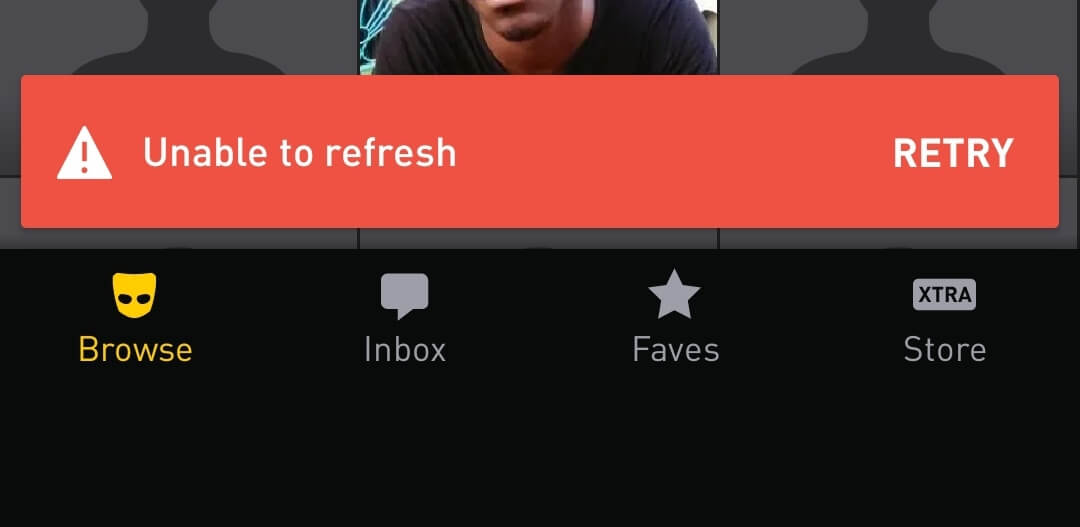 How to Fix Grindr Unable to Refresh
Encountering difficulties with Grindr's refreshing process? Here's a proven method to rectify the situation and potentially address related concerns, such as loading errors or message transmission problems. Follow these steps:
Access Your Phone Settings: Navigate to your mobile phone's Settings.
Step 1: App Selection: Locate and tap on the "Apps" option. Scroll down or search for "Grindr" within the list of applications. Once found, click on it to access the app's settings.
Step 2: Force Stop the App: Within the Grindr settings, click on the "Force Stop" button. Allow a brief moment for the action to take effect.
Step 3: Clear Cache: While in the Grindr settings, navigate to the "Storage" section. Tap on "Clear Cache" to remove accumulated temporary data.
Step 4: Close Recent App Instances: Exit Grindr in your recent apps list.
Step 5: Restart Grindr: Launch the Grindr application anew. The refreshing issue should ideally be resolved, restoring its functionality.
By performing these steps, you can potentially overcome the Grindr refresh hurdle and enjoy uninterrupted use of the app.
2

No Internet Connection on Grindr

While attempting to refresh Grindr, send messages, images, or make calls, you might encounter a "No Internet Connection" notification. This commonly arises due to a weakened Wi-Fi or cellular network signal.

To pinpoint the root cause, check if other internet-dependent apps function correctly. If they're also affected, your device's overall connection may be at fault. Conversely, if only Grindr experiences issues, it's likely confined to the app itself.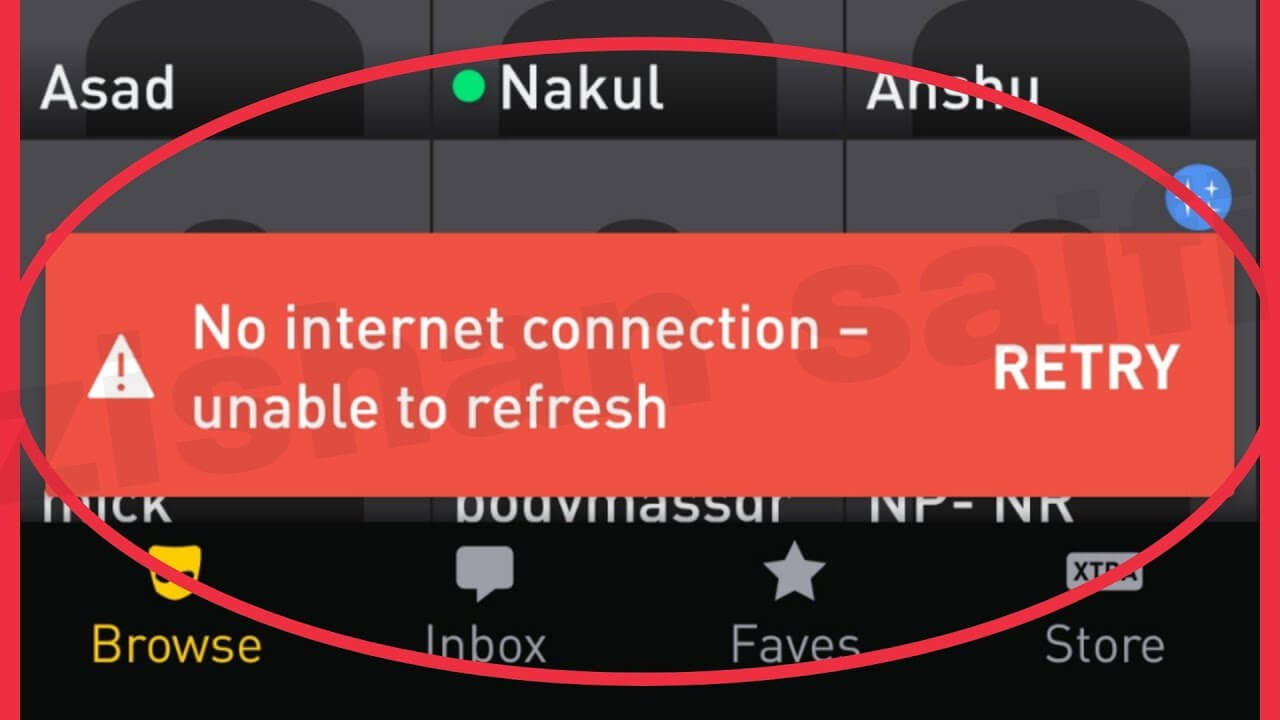 How to Fix Internet Connection on Grindr
If Grindr is experiencing connectivity problems, follow these steps:
Step 1: Close Grindr and test other internet-reliant apps.
Step 2: If these apps falter too, your device's overall connection may be compromised.
Step 3: Access your mobile's Settings, navigate to Connections, and verify proper Wi-Fi or cellular data linkage.
Step 4: Confirm airplane mode is disabled.
Should Grindr remain the sole malfunctioning app, the problem likely resides within the app, not your device. In this scenario, attempt the force-stopping procedure mentioned earlier.
3

Grindr Messages Not Sending Issue

Essentially, Grindr operates as both a social networking and online dating platform. Effective message exchange is pivotal for optimizing the app and ensuring a satisfying user journey. Grindr utilizes your device's Wi-Fi or cellular connection for private communication.

The chief obstacle hindering message transmission often boils down to a lack of internet connection or restricted permissions for Grindr.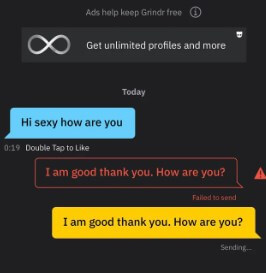 How to Fix Grindr Messages Not Sending Issue
Step 1: Begin by ensuring your internet connection is established via Wi-Fi or cellular network.
Step 2: If the issue persists, access your mobile phone's Settings.
Step 3: Within the Apps section, locate Grindr—scroll or search—and select it to access the app's settings.
Step 4: Validate that Grindr permissions are enabled on your device.
4

Grindr Unable to Login
Begin by checking your internet connection—Wi-Fi or cellular.
Update to the latest Grindr app version.
Confirm accurate, case-sensitive login credentials. Reset forgotten passwords via email; for both forgotten email and password, create a new account.
Attempt device restart or app update, force stop, and reinstall.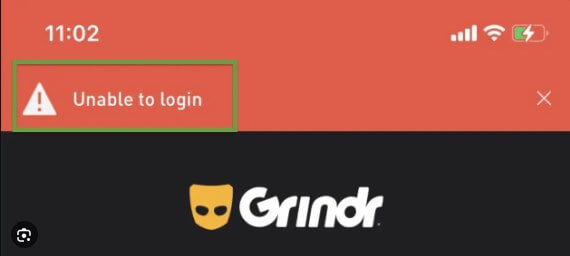 How to Fix Grindr Unable to Login
Whether on a new device, reinstalling, or prompted for security, accessing Grindr can entail reentering credentials. Yet, login issues may surface.
Multiple factors could hinder your login: forgotten credentials, outdated account information, or Grindr-related glitches.
5

Grindr Is Not Loading

Similar to the potential challenges discussed earlier, Grindr not loading is a prevalent concern with various underlying causes. By delving into the methods and solutions outlined below, you can swiftly restore seamless and efficient Grindr functionality.

How to Fix Grindr Is Not Loading
Step 1: Ensure internet connectivity via Wi-Fi or cellular network.
Step 2: Post-update, restart your device to address App Store or Google Play issues.
Step 3: Restart or reinstall the Grindr app directly.
Step 4: Alternatively, employ force stop or cache clearance through Settings, as detailed earlier.
6

Grindr Registration Error

Encountering a 'Registration Error' while attempting to create a new Grindr account? This guide provides solutions to resolve the issue promptly, enabling you to swiftly overcome the obstacle and begin utilizing the app.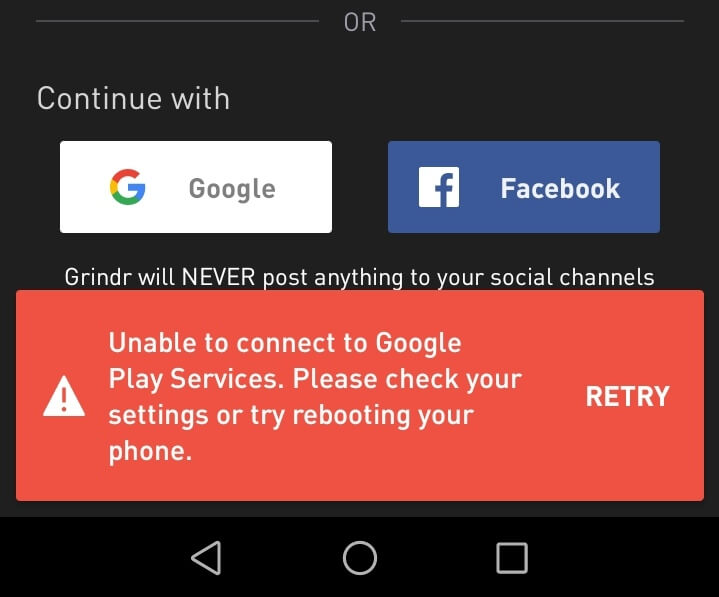 How to Fix Grindr Registration Error
Step 1: Make sure you are using the updated Grindr App.
Step 2: Check the Country and areas if your region is blocked.
Step 3: Force close Grindr.
Step 4: Restart your device.
Step 5: Try a different email.
Step 6: Turn off your Vpn.
Step 7: If you keep seeing Registration Error, you can email your device and IP, email address to support@grindr.com to ask for help from Grindr Official.
Part 2: Can I Fake Location on Grindr?
Yes. You can use a location spoofer to fake your location on Grindr.
iOS users can optimize their privacy settings by launching Settings, navigating to "Privacy," and selecting "Location Services." Find Grindr and set the location access to "Never".
Android users can achieve the same by accessing Settings, searching for app permissions, choosing "Location," and toggling off Grindr's location service using the slider.
Part 3: Why You Need to Fake / Change GPS on Grindr
Reason 1: Expanding Connections Through Faux Grindr Location
Grindr's essence lies in location-based interactions. Manipulating your location, you can discover fresh profiles and connect with potential partners beyond your usual reach.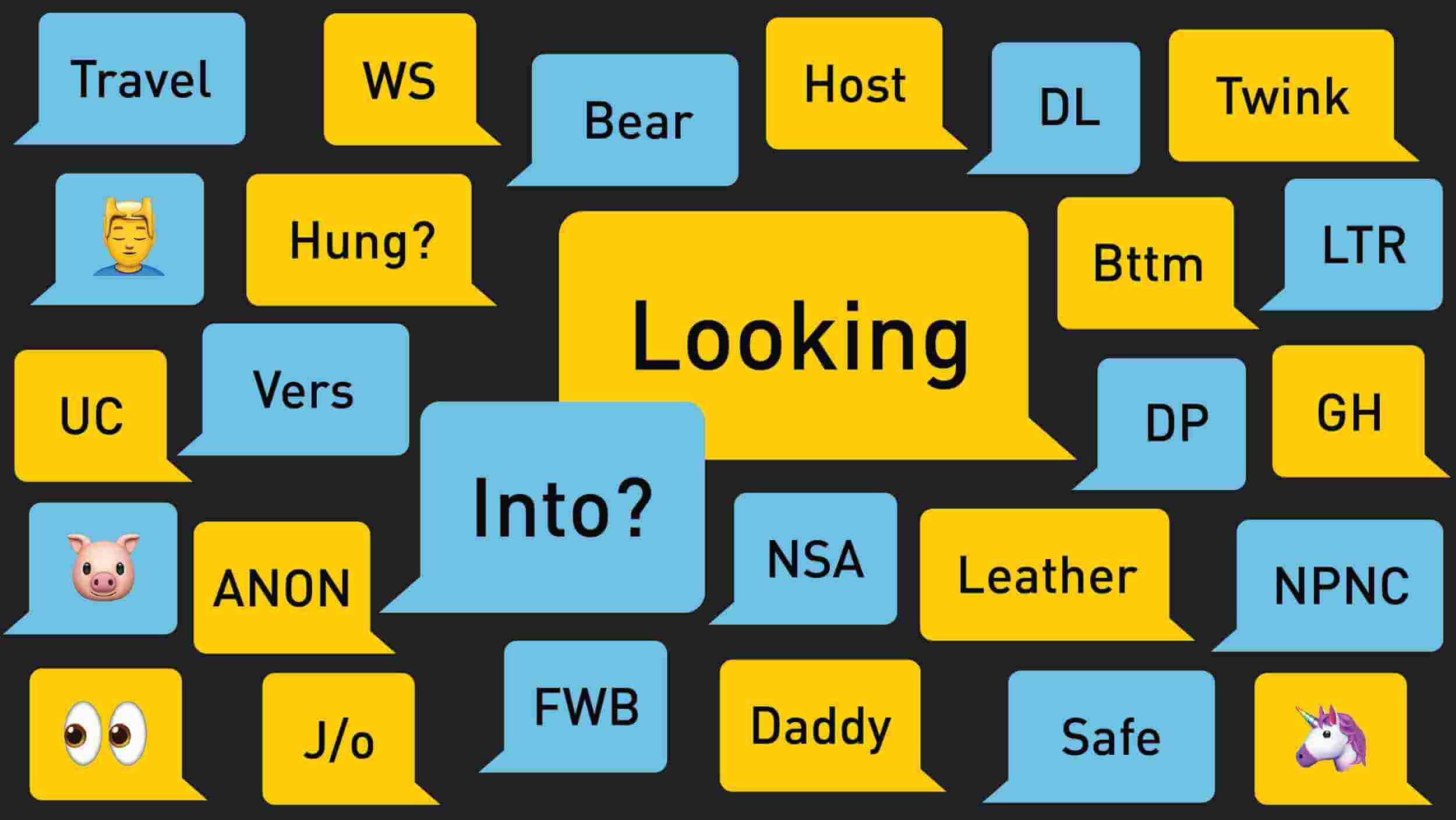 This also enables showcasing your profile to those beyond your immediate vicinity.
Reason 2: Navigating Restrictions
While Grindr enjoys popularity, certain regions or countries impose bans or limitations. In such cases, using a fabricated location becomes essential to access the app.
Reason 3: Safeguarding Privacy
Beyond playful location settings, Grindr exposes your real-time whereabouts and past visited spots. This can infringe on your privacy, potentially revealing your location without consent.
Part 4: How to Change Location on Grindr to Make More Friends?
In the realm of social networking and online dating, Grindr has evolved into an invaluable resource.
It utilizes user GPS locations to deliver location-specific content, although this approach can restrict interaction across regions. Embracing new connections and horizons may be hindered.
To expand your reach and interact with diverse profiles, consider the LocaChange location changer. This professional tool ensures secure and efficient GPS location alterations, empowering you to connect with more individuals across desired areas.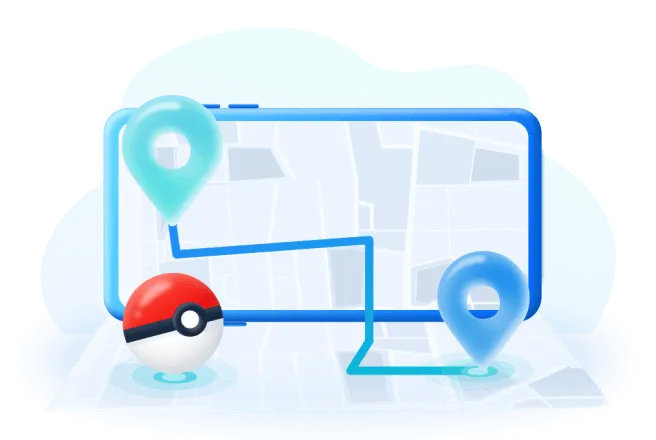 Fake Grindr GPS location to any place in the world with 1 click.
Simulate GPS movement along customized routes while staying at home.
Works well on all location-based apps, such as Tinder, Find My, Okcupid and Bumble.
Safe and won't to be detected.
Here's how to use LocaChange specifically to easily spoof locations in Pokemon GO.
Step 1:Download and install LocaChange into your Computer.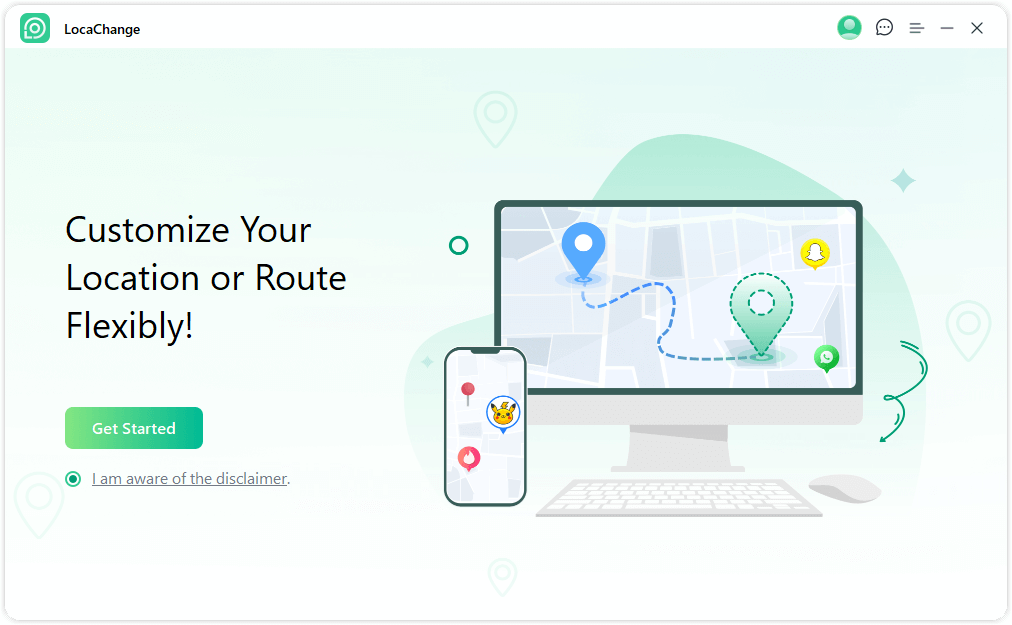 Step 2:  After installing LocaChange, launch it. Then connect your phone to your computer with a USB cable or WIFI connection(we recommend USB cable beacuse It has a 100 percent success rate)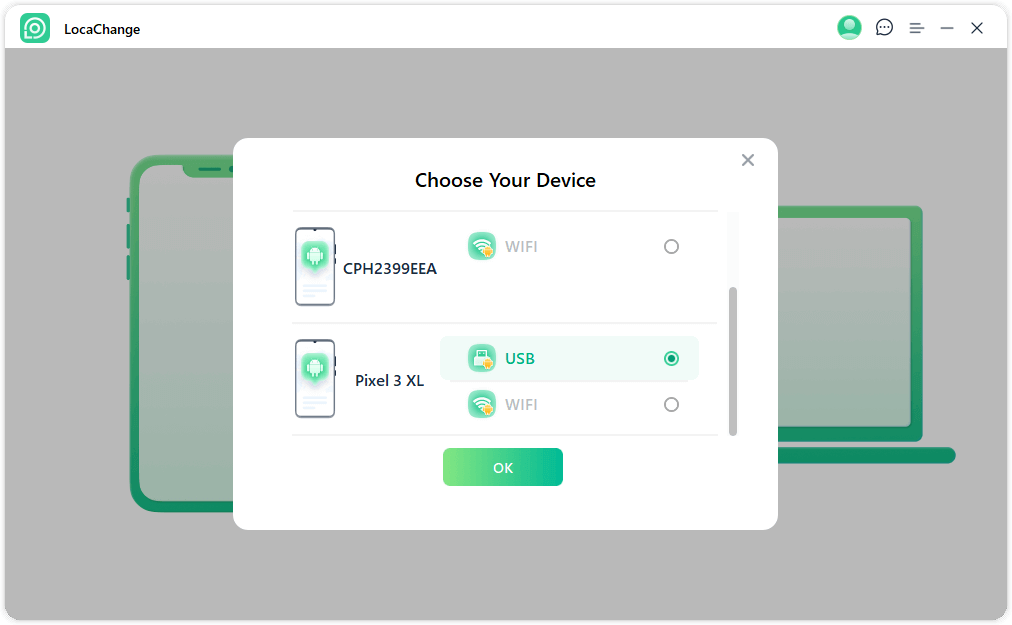 Step 3: Choose any of the teleport mode, two-spot mode, multi-spot mode, enter any location you want to jump or transfer, and click the Move button to change your GPS location.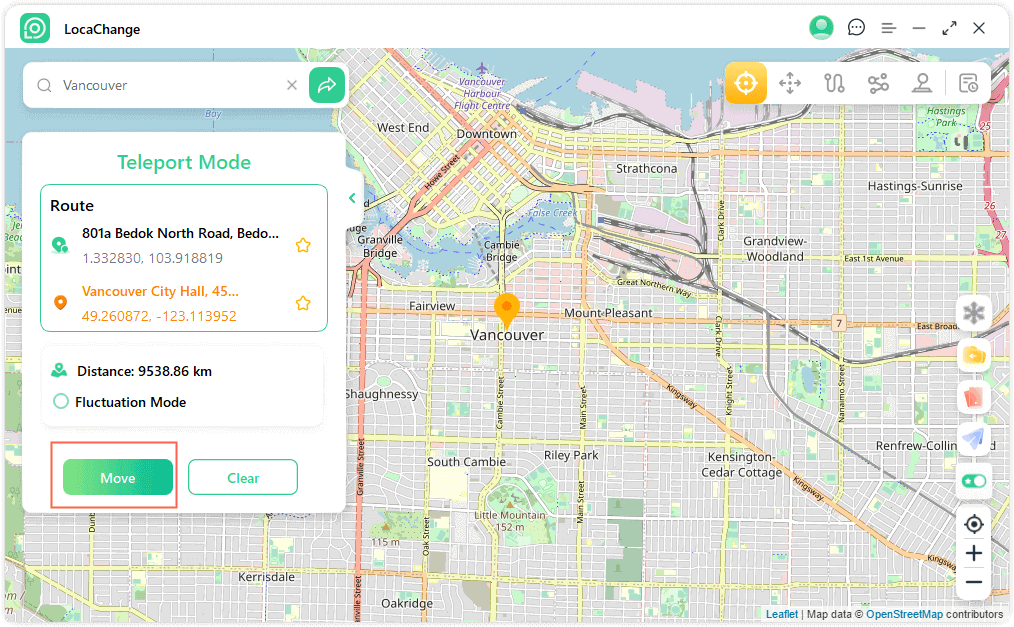 Part 5: FAQs about Grindr Not Working
1

How to Hide Location on Grindr to Protect your privacy?

To safeguard your privacy on Grindr, adopt these steps:

Disable Distance Display: Within Grindr settings, switch off the feature revealing your proximity to others. This shields your distance and heightens privacy.

Deactivate Location Services: On both iOS and Android devices, disable location services for Grindr. Prevent the app from accessing your device's GPS and revealing your whereabouts to fellow users.

For iOS: Settings > Privacy > Location Services > Grindr > Toggle to "Never."

For Android: Settings > Location > App permission > Grindr > Toggle to "Off."

Note that this action may limit certain Grindr features, like viewing nearby profiles or regional chats. Yet, it effectively safeguards your privacy by averting location sharing with unfamiliar app users.
2

Why can't i use fake location on Grindr?
1.Verify your internet connection.
2.Force stop and clear Grindr's cache: Settings > Apps > Grindr > Force Stop > Clear Cache.
3.Restart your device.
4.Uninstall, then reinstall the Grindr app.
3

Which App is the best Grindr Alternative?

Lex

Lex is a free, text-focused social and dating app tailor-made for queer, lesbian, nonbinary, transgender, and bisexual individuals.

Its aim is to foster meaningful connections that transcend superficial swiping, taking inspiration from traditional newspaper personal ads.

Feeld

Feeld serves as a secure and private dating platform, catering to inquisitive couples and singles with diverse romantic interests. It offers a safe haven for open-minded individuals to forge connections and explore novel encounters.

Zoosk

Zoosk stands as a global online dating powerhouse, boasting an extensive user base and precise matchmaking algorithm.

Leveraging behavioral matchmaking technology, it curates a personalized dating journey, facilitating harmonious matches. Zoosk spans languages and nations, delivering a multilingual, multinational dating experience.
Conclusion
Within this article, an exhaustive troubleshooting guide awaits, equipping you to conquer a spectrum of Grindr not working - from registration errors to message glitches and beyond.
When contending with Grindr's geographical and location-based constraints, the LocaChange virtual GPS location changer emerges as a powerful ally.
LocaChange offers unmatched functionality and adaptability, wrapped in a user-friendly interface that guarantees effortless navigation.
Don't hesitate to explore this invaluable tool for a seamless Grindr experience.
Change GPS Location on iOS/Android
168,282 people have downloaded it.
Fake iOS/Android GPS location to anywhere in the world instantly.
100% Work with location-based apps such as AR games, social platforms, etc.
Joystick to simulate GPS movement freely when playing games.